Position 200+ indicates Division II, Position 300+ indicates Division III, Position 400+ indicates Mini Corps.
"THIRD REGIMENT DRUM CORPS
Portland, Oregon
Combined Corps - The ROYAL LANCERS and the HAWKS DRUM CORPS.
May 1975 these two corps decided to merge and form one large drum corps from the Portland area and their dream came true. This year's competition drill started off with a fanfare and Mahler "75, arranged by Wayne Downey. Soloists Greg Hall, Jerry Boose, Ed Butler, Neiko Yeakey and Mike Haugen were featured in Hava Nagila. In their concert number, Live and Let Die, Dean Long and Ken Rust were presented.
Directors: Ed Beradino, John Parkhurst and Mary Helen Plumb
Assistant Director, Martin Brouwer
Instructional Staff, M & M Karen Billmeyer; Brass, Darrel
Meisenheimer, Greg Hall; Percussion, Mark Castilio; Rifles, Lonnie Avila; Drill, Bruce Plumb.
[From the July 8th 1989 Spartans of Vancouver,Washington's Drum Corps Spectacular Program]
CORPS 1 items
3rd Regiment of Portland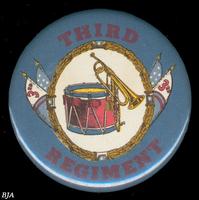 ThirdRegiment,Portland,OR,Pin1(BJA)J_U_S from the Richard Elmquist Collection
LOADING.....