Position 200+ indicates Division II, Position 300+ indicates Division III, Position 400+ indicates Mini Corps.
Fantasia III Drum & Bugle Corps is the result of a Feb 1, 1979 merger between the Dynamics of Oradell, the Royalaires of West Paterson, and the Imperial Knights of Midland Park, New Jersey. The corps is sponsored by the Booster Club and Wayne New Jersey Boy's Club. Current membership includes 64 boys and 64 girls with an average age of 16. Titles include New Jersey State American Legion Parade Champions (1975, 1976, 1977), and Metro AA Field Champions (1977, 1978). The 1979 Musical repertoire includes "The Ten Commandments," (drum solo--"Toccata"), "Glory Be To God," and "Granada Smoothie". The exit is a surprise! Instructional staff includes Horns--Lee Romano and Paul Harvey; Drums--Ed Argenziano, Bill Barlics, and Craig Osetek; M&M----John Carr and Mark Derhelle; Color Guard/Rifles--Walter Derhelle; Drum Majors--Levi Best; Jill VanEtveldt, and Linda Speer; Business Managers--Elmer Ewald and Vince Letizia; Corps Directors--George Holden, Peter Ewald, and Jack VanEtveldt.
[From the 1979 US Open Program]
CORPS 2 items
Fantasia III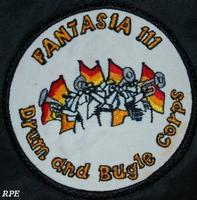 FantasiaIII,LittleFalls,NJ,Patch1(RPE)J_U_S from the Richard Elmquist Collection Contributed by Robert Pero
Fantasia III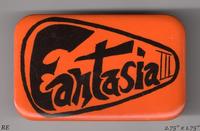 FantasiaIII,LittleFalls,NJ,Pin1_RectOrange(RE-2.75x1.75)J_U_S from the Richard Elmquist Collection
LOADING.....