Position 200+ indicates Division II, Position 300+ indicates Division III, Position 400+ indicates Mini Corps.
The Barons were formed in 1961 as a breakaway corps from the Crystal Raiders. The corps was folded in 1985 from a lack of instructional staff and members.

[Submitted by Ben Van Kurin, April 2018]

CORPS 2 items
Barons of Steuben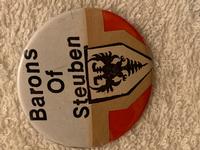 Corps Button Contributed by James Fawber
Barons of Steuben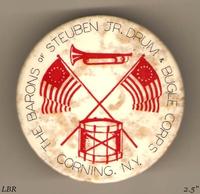 BaronsOfSteuben,Corning,NY,Pin1-Crossed Flags1(LBR-2.5)J_U_S from the Richard Elmquist Collection
LOADING.....